Customer Reviews
Write a Review
Ask a Question
Filter Reviews:
wait
model
pump bags
bottom space
mom bag- design
someone
canvas material
brands
ones
lots
01/04/2021
Emery C.

United States
Better than expected
I honestly loved this style of diaper bag the most; I purchased at least 5 different ones online from various other popular brands and returned them all for being too tall, large, wide, or heavy, rough canvas material, etc. This one has been the nicest quality and useful design. The fabric is so smooth and soft, yet sturdy when standing up with heavy items. Internal bottom space wide enough for pump bags too. Its compact looking and doesn't look like a bulky mom bag- design is very modern. for this model I liked the colors inside and out. Lots of pockets but not too many to get lost in! I did have to wait for a coupon to purchase but worth the wait. As someone who used a hand me down bag with my first and felt I needed something for "me" this time, I highly recommend.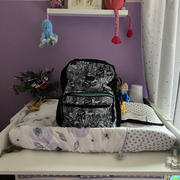 Be Right Back is the right fit for us!
I knew these bags were a bit different than most, and they are. There are so many more pockets to get yourself organized better. When I'm hauling an infant, I don't carry a purse. I use the front of this bag for me and everything else for baby. I ended up with the Sketch design, but truly I wanted Platform9-3/4; between a newborn and a global pandemic, there was no way I was ever going to be able to shell out almost $200 bucks for a bag. The Sketch went on sale for under $100, and that's the one I got. I'm worried about the white in the design holding up. Only time will tell! Other than price, it's an awesome bag. Roomy, organized, silent zippers, sea foam green interior—-what's not to love?!