Customer Reviews
Write a Review
Ask a Question
I recommend this product
JuJuBe Magic
This is my first JuJuBe backpack (though I've got several other items that I love!) and once again I'm blown away by all of the thought & creativity that went into designing every little detail of this bag. The embroidered stars in the sumptuously well-padded back is one of my favorite details.—Seemingly small & insignificant, and an area that most other brands would overlook entirely, but these little details just make it feel that much more special.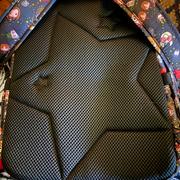 I recommend this product
Cute bag. Bag design for straps
I bought this bag a month ago to replace my Steve Madden diaper bag that was getting to be too big for what I needed to carry. I love this bag. It's a perfect size for a toddler. The only down fall I have seen is the way the straps are "tightened". The loops makes it super easy for it to come completely undone
Great Bag, Straps Too Short
This backpack is the perfect size for a mini. Smaller than a regular backpack but still a useful size for everyday use. I bough Flying Keys and the print and colors are just amazing and the hardware is adorable. I am not sure if I want to keep it or not though because the straps are so short. I am 5'6" and wear a size (American) L/XL and I have to have the straps as long as they can go-and the backpack sits just at the top of my back. The straps come undone because I have to keep them so long and the bag sits too high to be completely comfortable. The straps are even shorter than my 8 year old daughter is comfortable in -they fit my 3 year old perfectly though.The description says this bag can be used for an adult or a child but it is not made like that. It is a pre-school sized backpack and I wish it had been described as such.
Don't really like the fabric
The zipper pulls are cute and I like the illustrations and interior, but the bag fabric is very shiny, which makes it appear cheap to me. Also, the bag may be fine for a kids' backpack for school, but it doesn't seem very sturdy for day trips to theme parks, parks, etc. Overall I'm disappointed.