Customer Reviews
Write a Review
Ask a Question
I recommend this product
Great size for a great price!
I love this bag so much and get so many compliments for it. Its a great size for just me and my 3 year old since she doesn't really need a whole lot now when we run errands.
I recommend this product
So cute!
Just received this backpack. So cute! It's small. I know I will use it every day!
I recommend this product
super cute
I absolutely love my bag. I got one for me and one for my neice. It's a small bag but has plenty of room for me. The front pocket is a nice size. There is no inner pocket, but i can put my bag organizer inside so everything is in easy reach. I love the bag is washable. I have ocd and am always cleaning my bags. Which in 2 cases wass disastrous. I had one bag where the hello kitty design peeled off and broke into tiny pieces in the wash. And another my mom washed where the liner was destroyed. For me being washable is an important feature. Ruining bags can be expensive. I also love the details of the bag. The lining has a pretty colored lining with the tokidoki logo on it. The straps are reallygood quality similar to the material seatbelts are made of. They feel silky and durable. I love that the bag has castles, sakura, mermaids. mermacorms, and so many other things. The zipper pulls are so cute too. I can't wait for my niece to see her bag.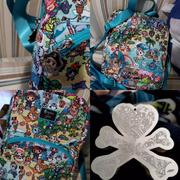 I recommend this product
Super Cute Backpack
Bought this for my daughter for her birthday, she's too little to wear it BUT she had a great time working on learning zippers and filling it up with toys and treats!
I recommend this product
Just a bit small
Ordered 2 mini backpacks the quality is great and the print is exactly like the picture. However I would like them to be a bit bigger. My wallet and keys are all that fit in the little bag. A size between this one and the next would be appreciated.