Customer Reviews
Write a Review
Ask a Question
I recommend this product
Amazing bag!
The Sporty is my fav backpack style bag. It works best with pouch packing and carries very easily.
I recommend this product
perfect medium sized backpack
i'm in love with this style bag. you have to pack it vertically, but once you do it's really easy to organize. the fantasy paradise print is amazing, and i can't stop buying different items in this pattern. i only wish the side pockets were a little taller and deeper, as i couldn't fit my ice block along with my soda can, and it barely fits my 18oz yeti bottle in the pocket.
I recommend this product
Love it, love it, love it!!!
Omg, I love it; it is a perfect size, the metal zippers are so smooth! Lots of useful pockets. The material crunchy and its made me happy:) its durable, bright colour, I just got so many compliments and envy looks. This is really dream bag, and I am a bag-phsycho-fun, I have lots of them, and Jujube is the best! Thank you guys for creating them abd thinking of us, customers!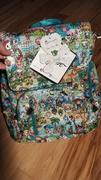 05/13/2020
Otonoleahann88
I recommend this product
Love the ppp
Jujube never fails!! Love this print love everything abt this bag!!
02/14/2020
shoppingmama2019
I recommend this product
Great functionality
I love their bag organization. Very functional for moms. Machine washable is a huge plus.